Choose Opening Roof Pergola For Unlimited Outdoor Fun
The Pergola are is one of the most happening place in many homes. It is the focal point of parties, dinners, celebrations, outdoor activities, and much more.
Do you want to extend your pergola experience with countless possibilities? It's all about unlimited fun where you enjoy the outdoor living to the fullest.
Lumex offers opening roofs for pergolas to make it useful year-round – including the rainy season. Do you want to enjoy the rain with a cup of coffee sitting in your backyard?
With our range of pergola opening roofs, you get the all the fun of outdoor living.
Designed To Amplify Your Experience
Our adjustable louvred pergola roofs mean versatility and functionality to your outdoor structure. You can use the place as a permanent, outdoor living room with furniture, electronic devices, and more.
Your pergola can also take the shape of an outdoor bedroom with the louvred roof to help you to enjoy the night sky. If the pergola is surrounded by your lush garden, you can also get the feel of countryside living. Do you have any other creative thoughts for outdoor living?
With our operable pergola roofs, you can adjust sunlight, ventilation, and shade based on your requirements and ensure ultimate comfort. The trapezoid blades of the roof can rotate up to 130 degrees, which allows you to ensure optimal temperature, lighting, and airflow in your pergola.
You can operate the roof with just one click using the remote control or the mobile app. The mobile app allows you to schedule the operations of the roof according to seasons, time of the day, and more.
High-Quality Manufacturing
At Lumex, we have set high-quality manufacturing standards to offer durable, stylish opening roof solutions to both residential and commercial customers in Australia. We source excellent quality aluminium to manufacture the roofing solutions. The trapezoid blade design makes the roof watertight with proper drainage of water.
The powder-coated extruded construction also ensures no corrosion and excellent durability. With a range of stunningly stylish, customisable pergola roof designs, you can add value to your property.
We have also included integrated down lighting to our roofing solutions. It allows you to create a unique ambience to arrange parties and small events in your pergola. The unique lighting options also help you to enhance the value of your property.
Talk To Louvred Consultants Today
Talk to our louvre roof consultants today on (02) 9624 0700 to let us know your requirements. Alternatively, use our enquiry form to let us know your questions and thoughts on our opening roof solutions.
Our consultants will visit, explain the features and customisation options of the roofs, and provide a free quote for your roofing requirements. We look forward to hearing from you.
Get a Consultation
We can arrange for one of our design consultants to visit you and provide the features and benefits of applying Lumex products in your home.
They'll prepare an initial design and quote for your consideration and you'll be one step closer to having the best outdoor living area you have always dreamed of.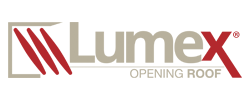 The ultimate in louvred opening roof systems. Versatile, stylish, elegant, energy efficient and most importantly, adds value to your home.
Copyright © 2019 CW Systems Pty Ltd